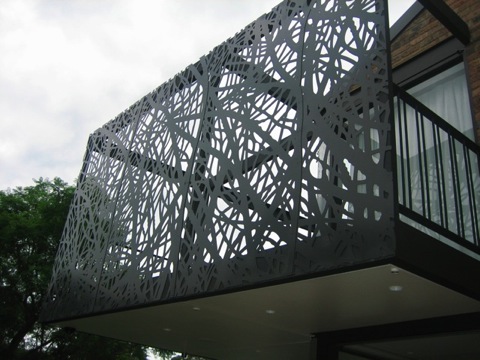 Laser Cut Screens
specialises in designing and manufacturing laser cut privacy or decorative screens in a range of materials including stainless steel , aluminium , weathering steel ( also known as Corten ) , steel , gal steel , MDF and plywood .

We can make screens to a maximum size of 1.5 m x 3.6 m in one piece .
Installing our screens will give your house a contemporary architectural feel .
We have access to economical freight to Melbourne , Sydney , Brisbane , Canberra , Adelaide , Perth and Darwin .
For example we can ship one laser cut screen country wide for as little as $20 . If you have a larger job , we can ship 20 x 2.4 metre x 1.2 metre laser cut screens to Sydney or Brisbane for $132 or Melbourne for $165 . We can ship anywhere .

New pattern
: LCS016 leaf pattern standard screen 1.2m x 1.8m in 2mm mild steel for $550 . Other sizes and materials available .

Also available in 3mm weathering steel 1211mm x 1821mm for $880
New product
: Reconstituted hardwood screens at budget prices . This reconstituted hardwood screen is 3.66m x 1.22m . Smaller sizes available .