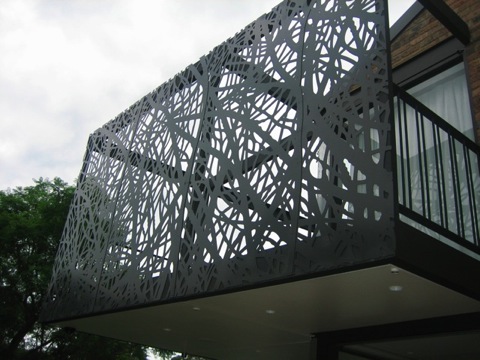 Laser Cut Screens
specialises in designing and manufacturing laser cut privacy or decorative screens in a range of materials including stainless steel, aluminium, weathering steel( also known as Corten ), steel, gal steel, MDF and plywood.

We can make screens to a maximum size of 1.5 m x 3.6 m in one piece.
Installing our screens will give your house a contemporary architectural feel.
We have access to economical freight to Melbourne, Sydney, Brisbane, Canberra, Adelaide, Perth and Darwin.
For example we can ship one laser cut screen country wide for as little as $20. If you have a larger job, we can ship 20 x 2.4 metre x 1.2 metre laser cut screens to Sydney or Brisbane for $132 or Melbourne for $165. We can ship anywhere.

Feature pattern
: LCS016 leaf pattern standard screen 1.2m x 1.8m in 2mm mild steel for $550. Other sizes and materials available.

Also available in
3mm weathering steel 1211mm x 1821mm for $880.
2.5mm weathering steel 1225mm x 1825mm for $825.

order 2 and get a 10% discount

Reconstituted Hardwood
This material gives a chunky more organic look.
This screen is 3.66m x 1.22m and costs $1,760 or you can order 2 x 1220 x1820 for $1,320. Smaller sizes available.